Moissanite SA™, a renowned provider of top-quality moissanite, has been serving the jewellery industry for over two decades. The company's reputation for excellent service and trusted products is unmatched, and its latest offering, Majestic Moissanite™, is no exception.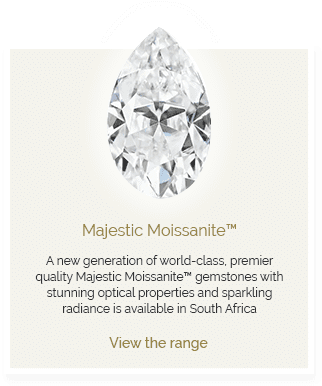 Majestic Moissanite
Majestic Moissanite™ is a premier quality gemstone that offers impressive fire, brilliance, and clarity. It is available in colourless and near-colourless grades, making it a versatile option for jewellery designers and enthusiasts. What sets Majestic Moissanite™ apart is its use of cutting-edge lab-grown crystal technology, ensuring that each gemstone is of the highest quality.
Moissanite SA™ is an expert in the global moissanite market and sources its moissanite directly from the finest quality lab-grown silicon carbide crystals produced by leading laboratories. As a company committed to ethical and sustainable practices, Moissanite SA™ ensures that its partners share the same commitment, making it a socially responsible choice.
Our Mission
At Moissanite SA™, our aim is to offer high-quality moissanite that is ethical, sustainable, and socially responsible, with minimal impact on the environment. Our partners share our commitment to this responsibility and are passionate and dedicated to this cause.
It is really important to deal with long-standing reputable companies and not the new entrants to the marketplace, of which there are many!

Leo Levine CEO
Why Choose Moissanite SA™?
In a marketplace with numerous new entrants, it is essential to choose a long-standing, reputable company like Moissanite SA™. With over 40 years of experience in jewellery and related industries, Moissanite SA™ has proven its expertise and commitment to quality.
The company's dedication to ethical and sustainable practices is evident in its choice of partners and products.
Majestic Moissanite™ comes with a promise of quality. The gemstones are chosen from the highest quality SiC crystals available, ensuring that they meet or exceed your expectations.
If for any reason, you are not completely satisfied with your Majestic Moissanite™, you can return it to Moissanite SA™ within seven days in its original condition and packaging for a full refund.
View our lifetime warranty for more details
---
History of Moissanite SA
Moissanite SA™ was founded in 1999 after moissanite was introduced to the South African jewellery market by the Jewellery Council of South Africa. Initially met with mixed reactions, Moissanite SA™ saw the potential of moissanite as a unique gemstone in its own right, catering to a different segment of the jewellery market.
The company secured exclusive distributorship rights for Charles & Colvard® in Africa, New Zealand, and Australia after successfully fulfilling the requirements set forth by the company. The response from the trade industry was divided, with some jewellers resistant to the idea of offering moissanite in their stores, while others saw the potential of a new product and profit line.
Today, many well-known retail chains and respected jewellery stores offer moissanite jewellery, with the global market estimated to be worth over R5 billion and continuously growing. With the expiration of Charles & Colvard's patents on the silicon carbide gem-growing process, various sources of moissanite have been introduced, with varying qualities reflected in their pricing.
Majestic Moissanite™ is the newest addition to Moissanite SA™'s range of top-quality moissanite. With a commitment to ethical and sustainable practices, the company ensures that each gemstone is of the highest quality, sourced directly from leading laboratories. With a promise of quality and a trusted reputation, Moissanite SA™ is the clear choice for those seeking premier quality moissanite.